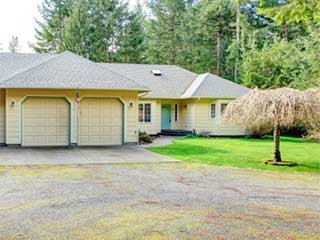 Home security and safety is all about protecting the things we treasure: family, memories and more. It's also about keeping unwanted elements out, like intruders, wild animals and harsh weather. Garages are often the weakest link when it comes to home security. Fortunately, with newer technology, you can ensure it's as secure as the rest of your home.
How Strong is your Door?
It's wise to invest in a sturdy garage door made of high quality material. When selecting a door, homeowners frequently focus on visual aesthetics. While visual appeal is important, always look at the options available in terms of strength too. Fortunately, modern doors are every bit as beautiful as they are safe and strong!
Keep Intruders Out!
Older door openers can pose a serious security risk. The old code systems are easy for tech-savvy thieves to decode and gain access to your home. This is especially worrying if you live on a large property with no neighbours nearby. Some of the newer systems of door openers automatically change the code every time an incorrect signal is sent.
With smartphones, it is now also possible to lock and unlock your door remotely as well as monitor your home while you are away. If your monitoring system also has an intercom you can 'answer' any callers to your door by giving the impression you are home.
Implement a Good Safety Drill
It's easy to become complacent and believe your home is impenetrable. Even the sturdiest door and the highest tech alarm system mean nothing if you don't keep doors locked and the alarm system turned on. Especially when you aren't home. We recommend getting the whole family together to discuss safety procedures through your entire home.
Get your Door Checked Regularly
Good safety protocol is one thing but it is equally important to have all of your doors and windows checked regularly to ensure they do not pose a safety risk themselves. This should include your garage door and in particular, your door opener. Is it functioning correctly? Does your door open when it should? Are your safety sensors operating correctly?
If it's been a while since you've booked a maintenance appointment for your system, or you'd simply like to discuss the additional garage related safety options available to you, just give our experts a call at Garage Door Repair Texas City.